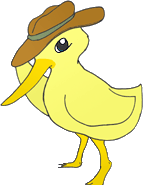 Name: Bob Kiwi
Known Aliases: Danger Kiwi, Agent Double-Oh-Zero
Species: Kiwi (Yellow)
Age: 26 years
Height: 40" (Approx. 1 meter)
Weight:
Likes: Coffee, Coffee, and MORE Coffee! Also, Macs, Bobetta, and Hundred Dollar Bills.
Dislikes: Bridges, Falling, Decaf, Ivan
Known Fears: Gephyropphobia (Fear of bridges or of crossing them)
Occupation: Private Investigator, International Kiwi of Mystery
Distinguishing Character Traits: Brave, courageous, and reasonably intelligent. Not very intuitive.